[Grandma and I have 5 granddaughters, by age: Tim's girls: Carrie, 24; Abbie, 22, Jim's daughter: Kayda, 14; Josh's all-consuming bundles of joy: Leah, 3.5; and Ellie who is 1 & 7 months.  Carrie was like a daughter to us being the first. (I needed time to realize she is our granddaughter). She is the adventurer. Abbie is the artist. Kayda is the intellectual. Leah is inexhaustible energy. Ellie is the sensitive one having begun life with a milk allergy which took time to find.
I see myself in all of them. Life has been an adventure. Anyone who knows my history has that much. I like to think of myself as part artist (writer) and part intellectual (the preacher). Over the years we needed to tap a source of endurance that brought us through decades of change. We needed a bit of Leah's energy. And Ellie's empathy is a gift all the merciful should have. I like to think myself one. September 2020.]
This Grandpa's joys, please understand,
Are just five girls, five daughters grand
Five sweethearts in a class alone
On which I dote in boastful tone.
Our Carrie is the first of five
And granddad's glad to be alive
To see her grown. Think of that
Our little girl who I once "sat."
I had to learn: I'm not her dad,
The daughter grandpa never had,
But still involved—and such a fuss;
I'm only glad she's one of us.
Our Carrie is the traveler
It matters not the time of year
So fearless, brave, and confident
At home in houses, or a tent.
---
Our Abbie, so deserves some praise—
Artistic in so many ways.
With pen and ink creatively
She blesses us in all we see.
The potential of so much to come
Her talents speak to not just one.
Her interests now in widened scope
Are filled with promise and with hope.
Our Abbie still so young yet smart
Her great achievements just the start.
I shout her praises right out loud
For of our Abbie, I'm so proud!
---
Our Kayda quietly reads and reads
Of adventurous tales and heroic deeds
Of super kids where dragons fly
And the world unnoticed moves on by.
She sits curled gracefully around a book
While admiringly I chance to look
At sweetness that is unsurpassed
Of innocence that's un-harassed.
When she was four and we at play
With honeyed voice, I heard her say—
Most cherished by this aged fool—
"Grandpa," she whispered, "I love you."
---
Our Leah is pure energy
Which both excites and blesses me
So full of life; so full of fun.
And life for her has just begun.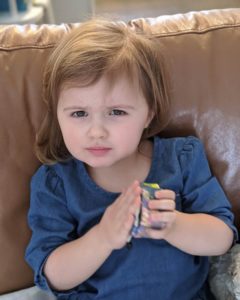 For learning is a full time task
While I must simply sit and bask
In all that Leah is for me—
Her interest in discovery,
Her overwhelming, endless zeal,
Her innocence, so pure and real,
Her unleashed spontaneity.
Our Leah just a girl of three.
---
Our Ellie's smile is in her eyes
With Grandpa King they empathize
She reads my heart in quiet glance
And none of this is happenstance.
She'd share her food with me but more
There's something here I can't ignore
A one year old that seems to care
When grandpa needing hugs is there.
The sweetest is when lovingly
For friendship's sake she talks to me
With whispers soft that only I
Will catch when throwing me a "Hi."
---
This Grandpa's joys, please understand,
Are just five girls, five daughters grand
Five sweethearts in a class alone
On which I dote in boastful tone.